Dynamite is a Canadian-based clothing company, Today we share complete details about Dynamite Return Policy for clothing, the latest updates & detailed process. All women love shopping from retailers, so let's discuss their policy for clothing returns.
What is Dynamite's Return Policy in Canada?
The company Dynamite was established in 1984, their headquarters is located in Montreal, Canada. Dynamite retail mainly deals in Women's Fashion Apparel, Accessories, footwear & fashion products. In the initial stage, they used to operate by "Garage Clothing Company".
Let's have detail about the return policy for Canada 2023.
They have a customer-friendly return policy, return can be initiated within 30 days of the purchase being made. Moreover, their return is free of cost.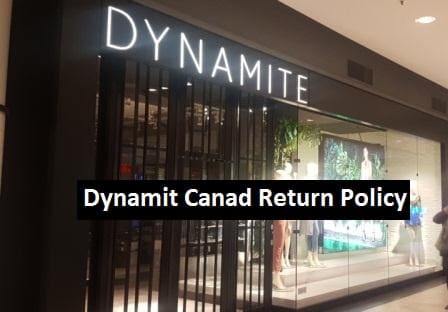 You can return the products either by mail or visit the retail store as well.
1-How do Return product vial mail easily?
The first method to return the products is via mail. It's a very easy process once you do it correctly refund is received quickly without worrying about rejection. Follow the below-given steps for an easy return via mail.
Visit the official page & go to your order history,
Select the order from the list for return,
Now select the Print Return Label option,
Attached is the return label along with the original box,
Drop off the package at the nearest Canada Post Office,
Keep the receipt for future reference,
For guest checkout, you need to fill out the tracking form for return.
2- In-Store product return details
To return the product through the in-store option, visit a store near you. Find the nearest store from the store locator option. Original proof of purchase must be accompanied by the products.
Read more about the terms & conditions before returning any products.
Dynamite Return Policy Terms & Conditions for Refund
Below are the T&C details. Read each one carefully. Although these are very simple & followed by all the retailers across US & Canada.
All the refunds are initiated once the below criteria are met, be it in-store or via mail.
| | |
| --- | --- |
| Return Policy Details | Applicable |
| All returns must be within 30 days from purchase, | Mail & In-Store |
| Original Proof of purchase is required for In-Store returns, | In-Store |
| The product must be unused or unwashed, | Mail & In-Store |
| The original Price & Brand tag must be intact, | Mail & In-Store |
| Packaging must have Return Label, | Via Mail |
| Multiple quantity products must be returned in the same package, | Mail & In-Store |
| Footwear must have the original protective film | Mail & In-Store |
Can Final Sale items be returned?
Final sale items are listed below if you have purchased these items that are not eligible for return. So you requested to check these items during the shopping well in advance to avoid any confusion.
Fragrance products,
Beauty products,
Earrings,
Smilemakers Brand Wellness products (DYN only),
The product is kept in the "Final Sale" section,
Gift Cards,
E-Gift Card,
How do I Get a Refund from Dynamite?
Once you have returned the products they offer you an eligible amount of refund. For more clarity refund is received for the return initiated via mail or In-Store.
Receiving In-Store Refund
If you have returned the products through the in-store refund process, the refund is instantly processed. The below points must be kept in mind via receiving the refund from their retail store.
The refund will be credited in the original form of payment,
Taxes & shipping charges are not included in the refund,
Orders which are paid via Paypal are eligible for an In-Store refund,
Orders paid via Gift card will receive a new Gift card as a form of a refund,
Receiving Refund via Mail return
All the refunds are processed within 10 business days once they receive the product. Below are the details about receiving a refund via products returned using the mail option.
All refunds are received in the original form of payment,
Shipping charges are not considered in a refund,
Amount paid as taxes are not valid for refund,
If paid via Credit/Debit card amount will appear in your statement,
How to receive a Refund via Paypal?
Paypal mode refunds are now eligible & you can receive the refund via mail or in-store return process.
In-Store Paypal refund is processed to your Paypal account. You must inform them if you are returning the products purchased through Paypal via mail.
How to Return its "This is a Gift" products?
All the orders which are marked as "This is a Gift" are eligible for return & refund. The below matrix is given for your reference.
| | |
| --- | --- |
| As A Recipient | In the case of the Recipient processing the return, refunds would be credited to a new gift card and not the original sender's method of payment. |
| As a Sender | In the case of the Sender processing the return, the return is processed in the original form of the payment. |
What is Dynamite's return policy after 30 days?
What if 30 days have passed? do they accept returns pos 30 days limit? No, they provide you a sufficient time of within 30 days from the date of purchase only. If the timeline of 30 days is over they don't accept any return or exchange request.
Dynamite Refund Policy for Klarna?
If you paid via Klarna & wish to return the products, follow the normal process Via Mail or In-Store. Once the return is processed they will reduce the amount you owe to them.
Dynamite Contact Details
In case you need any assistance & seeking additional information check the below contact details of the retailer.
| | |
| --- | --- |
| Official Website | https://www.dynamiteclothing.com |
| About Company | https://groupedynamite.com/ |
| Contact Number | 1-888-882-1138 |
| Purchase Gift Card | https://www.dynamiteclothing.com/ca/dyn-Gift-Cards.html |
| Check Balance | https://www.dynamiteclothing.com/ca/dyn-Gift-Cards.html |
| TikTok | https://www.tiktok.com/@dynamiteclothing |
| Facebook | https://www.facebook.com/Dynamite |
| Instagram | https://www.instagram.com/dynamiteclothing/ |
| Email ID | [email protected] |
FAQ
What is Dynamite's Return Policy?
They accept the return within 30 days of purchase & refund is processed via the original form of payment.
Can I Return Multiple orders in a single Return Label via mail?
No, each order must have a unique Return Label.
What defects product Return Policy?
A clear image of the defective item & order number must be mailed to [email protected], the return can be done by visiting the store.
How much time does it take for a refund?
A Refund is processed within 10 business days once we received the product.
Are there any fees for returning the products?
No, there are no fees for returns processed via mail.
Final Words; If you have gone through the return & refund policy of Dynamite, now you can easily proceed with a refund & get it timely. Today we share complete details about the process, still, have any queries do comment below.